Lacrosse Prevails With Positive Attitude Ahead of Minor Setbacks
In the first two weeks of practice, the Wilde Lake Girls Lacrosse team lost a goalie to a concussion, had to have players learn new positions, and had less time to practice due to weather conditions. In spite of their slow start, the Wildecats have persevered through these troubles with a positive and optimistic attitude, according to senior captain Autumn Weinig.
"I'm hoping for us to be competitive this year. It's unrealistic to expect us to win every game, and honestly it adds unnecessary pressure," said Weinig. "But when we leave a game or even practice, I want everyone to feel as though the majority of the game was strong on our part."
So far, the team has already had to replace the goalie twice this season first with Weinig, but when she suffered a minor concussion, junior Anna Boyer who had no prior experience filled the position. "I had never even touched a lacrosse stick before and I didn't know a single rule," said Boyer. "It was a lot at once, but all of the girls were so happy I was there and I wanted to be good for them."
Aside from Boyer who had never played lacrosse before, other players have been adjusting to position changes, varying from defensive to offensive positions. Sophomore defender Bridget Tiffey has also played attack this year. Although not her usual position, she has stepped up as a leader on the team.
Junior defender Toshiba James praises Tiffey for her ability to lead and contribute to the team. "Since Autumn got her concussion, Bridget definitely stepped up. She's only a sophomore," she said. "She acts way ahead of her age, she's very mature, and she's always encouraging us to better ourselves."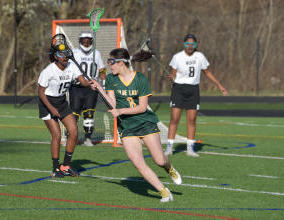 Weinig admits that the team needs communication and intensity more than ever. "Intensity is a huge factor we need to improve on," she said, " because a passion and fire for lacrosse makes everything smoother and more fun. Intensity leads to better communication, faster reactions, and a more cohesive team."
On April 1, the girls won their first game against Randallstown with a score of 14-2.
The team will continue pushing themselves in hopes of moving in the right direction. "We just need to move forward and build on our chemistry," remarks senior Imani Morris. "It's still early in the season ,so you never know what you're gonna get from us."
Leave a Comment