Getting Laughed at… But in a Good Way
As the audience floods into the JRT, not every seat is filled, but it's just enough for the cast and crew to tell that this is going to be a good audience. The house lights come down, and the announcements for the show begin. Silence swells in the air until the song starts for the actors to enter. A happy tension builds up in the audience before the first laugh, but when that laugh happens, every single problem dissipates.
To put it simply, when the actors get laughs, it makes a show very rewarding for them. Rehearsals are amazing, but they lack certain magic that the opening night brings. Audience reaction is what forces the actors to slightly alter their show. Nothing drastic, nothing crazy, but when applause, chuckles, and gasps are added, actors now have a job they need to uphold: captivating the audience. That is the most stressful, yet rewarding part of it all.
When performing in "Peter and the Starcatcher" this fall, I was in love with my role: Alf, the loveable yet gassy sailor. Playing him was so outside of my comfort zone, since I had never played a role with so much physical comedy and, well, man-ness. I found myself being worried at rehearsals that lines wouldn't read well to the audience, or a little motion I'd add wouldn't be funny, and that freaked me out. Being so unsure in a role was completely foreign to me, and I'd constantly be trying new things to make myself feel more secure.
This fear carried over to our first performance. I was truly scared that I wouldn't do the role justice and the audience wouldn't understand the purpose of my character.
Then I stepped on stage.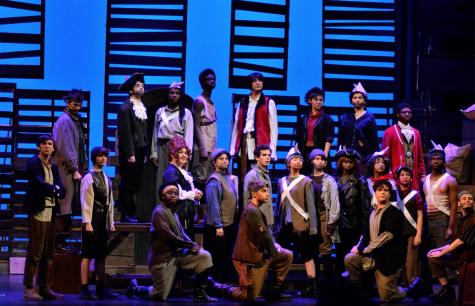 When the lights came up, I immediately felt at home, like all of my fellow actors encompassed me in this weird, safe warmth. The worries I had gone away for a little until my first scene with character lines. The scene I was in would either read super funny or super uncomfortable. I waited for my lines as I acted in character, and then I got to the funny part of the scene. The line delivered and the audience began to laugh.
It wasn't even a weak laugh. It felt like one that filled the whole theatre, and those are the ones that I live for. Every worry and insecurity went away, and I knew that my character would be well received the rest of the show. It helped me embody Alf even more than I already did, and I felt like I could accomplish anything.
The audience's reaction is as warm a feeling as the one I get from interactions on stage. People strive to be well-liked enough in real life, and on stage, it's no different. An actor's job is to make the audience feel entertained and safe, and I feel like I did that. That first laugh, it's everything.