Boys Varsity Soccer Team Scores an Impressive Season
The boy's varsity soccer showed a massive comeback this year, equaling their wins for the entirety of last season in their first five games this year. They finished with a 10-3-2 season record.
The team's success was a direct result of the adaptability the boys showed on the field. "We have lots of potential on this team," senior captain Adam Loudin, right back, said. "Everyone was willing to fill a role, we had lots of players who could go lots of places."
The team's camaraderie has been largely influenced by outings like pasta parties and even practices. Freshman, Phillip Washington, right back, said that getting to know his teammates helped him immensely on the field. "Having the bond helps me on the field when I try to anticipate the right pass and other player's movement," he said. "Knowing the player's personality helps me know what to say to them during games to help".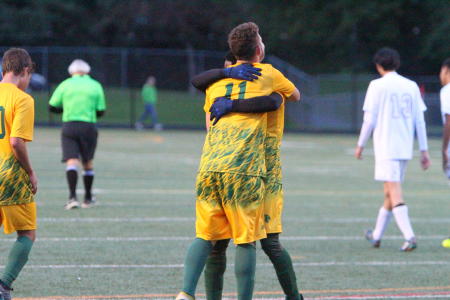 The Cats had their biggest shutouts against Glenelg, Dundalk, and Reservoir, winning 6-0, 4-0 and 3-0, respectively, adding confidence to the members of the team.
Things began to change for the boys when, according to sophomore Tyriq Umrani, a left back, "teams began to recognize our style of play and they adapted to it. This made it harder as a team to break them down."
The boy's soccer team was undefeated until they played Atholton on October 2, breaking their eight-game winning streak.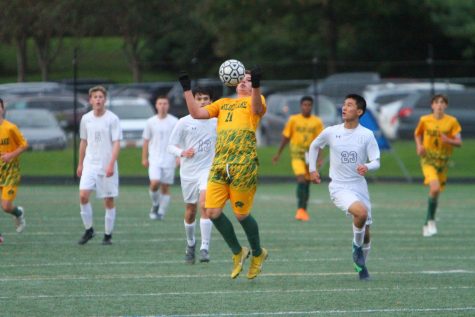 Once in playoffs, the team had to beat Oakland Mills in order to advance to the region final game. They had already beaten the Scorpions once on September 13, winning 1-0, so they knew the strategies they needed to win.
However, the team faced an unexpected 0-2 loss. Liam Nesbitt, a sophomore and center mid said, "I definitely thought we were going to go in and win, but I did notice that we had a bad end to our season," he said. "We weren't having very serious practices but I still thought we'd be able to pull it off."
The Oakland Mills game ended the boys season, but they are eager for a new season where they are hoping to make it farther. "Playing soccer with this group of guys has been such a great experience," said freshman Ben Hulit.