Moving On and Looking Back: The Past Four Years in Journalism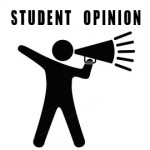 Every one of us has had a different experience here at Wilde Lake. Some of us have blossomed in the arts programs. Others have found themselves in the ARL programs, training to become the next generation of nurses, engineers and generally talented young people.
Some have grown into extremely accomplished athletes on the field, and well-rounded people off the field. And all of us are excited to see what lies beyond high school.
As Editor-in-Chief of this publication, I have spent these past four years behind a keyboard, typing away, chronicling our four years of history. All of our accomplishments are there, for the rest of Wilde Lake and every class to come, to read.
Let's take a stroll down memory lane. "Culture Awareness Week Extends the Celebration," "Intern Mentor Students Create New Technology," "Girls Soccer Takes County Championship," "Wilde Lake Jazz Band Takes the Title of National Grand Champions." These are a few headlines from the many memorable moments that we as a class shared.
All of the parents and guardians and mentors in the crowd have coached us through these strenuous years, from tryouts, to finals, through the college application process or job hunt, and we can only hope that you will be here for us as we move forward, wherever we go, once we step off the stage and into the "real world."
The future is uncertain for all of us. Whether we have decided to join the armed forces, or are headed off to college or going to work, there is a big world waiting with open arms to see what we will contribute.
Each one of us has learned something in between these big walls, and I don't mean just in the classroom. We've learned about compassion and friendship, and we've learned about who we admire and what we love. This learning is something we each will harbor for the rest of our lives.
I recently was able to hear executive editor of The New York Times, Dean Baquet speak. After I posed the classic question: "What is your advice for students right now?" he paused, and then responded that the best thing we could do, during these uncertain times would be to read, and above all else, be curious. Curiosity and passion to do better are two things Wilde Lake knows about, above all else.
We are proud to share with the rest of the county and state that Wilde Lake has one of the most diverse populations in the state, and although many of us take it for granted, it is a wonderful thing. We are diverse, not only in race, but in gender and in religion and in our stories. Many of us won't find this kind of diversity again. But, these individualized experiences are what we choose to take with us as we move on. We will use what we learned here, in this wonderfully varied community to understand the diversity of people we will surely meet beyond Wilde Lake.
As the great poet Maya Angelou said, "nothing will work unless you do." I can't wait to see all of the successes that lie ahead for each of us while we work hard, and more importantly, together, to make the world a better place.
I'll miss being here in the journalism classroom, learning and reporting, but I'm looking forward to seeing The Paw Print grow and doing something really great.
No matter what path you choose, we all began here. Congratulations Class of 2017. We did it!