With New Coach, Boys Lacrosse Prepares For the Upcoming Season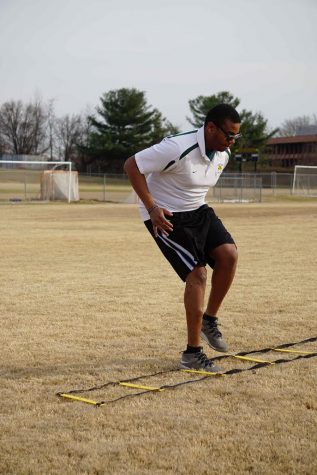 This year, the Wilde Lake boys lacrosse team welcomed Coach Mychael Gaines as their new coach. Coach Gaines currently teaches at Homewood.
Coach Gaines has an extensive background in lacrosse. He played lacrosse in high school and college. He also played in a semi-professional lacrosse league for five years, and tried out for Team USA. Gaines also used to referee lacrosse.
"We have high expectations for this upcoming season," said Coach Gaines.
The players on the team feel that Coach Gaines is a great addition to the Wilde Lake lacrosse family.
Senior Saquan Maxwell, who has been playing for Wilde Lake for three years, feels that Coach Gaines will provide Wilde Lake with the leadership they need.
"Coach Gaines is exactly what the lacrosse team needed. He teaches the importance of working as a team and creating a bond and trusting your brothers on the field," said Maxwell. "I feel very comfortable with Coach Gaines and the new system he's working [on] and I feel he has a great plan for the season."
Senior goalie Daniel Joseph has been playing for Wilde Lake for the past three years, and he is excited for the future of the team under Coach Gaines.
"He brings lots of energy to the team that we didn't have last year,  and he is bringing us together and making us more than a team. He is making us family," said Joseph.
The players and Coach Gaines have very high goals for the upcoming lacrosse season.
"The theme [or goal] for our season is "Journey to a Title" and to have the best student section in the county," said Coach Gaines.
The first game of the season is on March 24, 2017.