Gwen Ifill Leaves Behind Legacy for Next Generation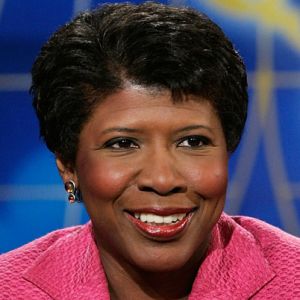 Gwen Ifill, an inspiring journalist filled with passion and spirit, made it her life's work to share the truth with the world through journalism, even in a time filled with racially charged arguments and hatred. Her life was cut short at the pinnacle of her career, on Monday, November 14, 2016, after a battle with cancer.
Her legacy, however, continues, which is especially important during times like these, when racial tensions are running high and people are attacking others because they do not understand other's beliefs. Growing up, I remember watching Ms. Ifill on the PBS News Hour, admiring her poise and elegance, and how determined she was to get to the heart of the story, all while breaking the glass ceiling.
Watching the tributes and outpour of emotional memories and condolences from people of all walks of life, I got teary eyed, seeing the impact that Ms. Ifill had on me and had on the rest of the world.
As both a person of color and a woman, Ms. Ifill broke barriers in everything she did. She began her journalism career in during college, when she was targeted by a coworker who wrote "n—–, go home," on a note for her. She persevered, and went on to become one part of the first "female anchor team," according the New York Times, with News Hour co-anchor Judy Woodruff by her side.
From desegregation to the political climate, Ms. Ifill was there to report on all the events of our time. She moderated presidential and vice-presidential debates and reported on so many events on the world stage. She was also influential in education, serving on the board for University of Maryland's Philip Merrill College of Journalism.
Ms. Ifill mentioned in an interview in January of 2015 that as a child, she used to watch television, and saw a kind of woman she'd never seen before in black women like Congresswoman Shirley Chisholm and news reporter Melba Tolliver. Little did she know as a little girl watching the conventions at the edge of her seat, that she would grow up to inspire a whole new generation of young women who looked up to her and saw the kind of person we all want to be: strong, passionate, and most of all, determined.
In every article, in every op ed, every writer describes her absolutely radiant smile, and her presence that simply lit up the room she walked into. She was both poised and down to earth, but she was anything but a pushover. She spoke her mind, and the world listened.
In a school that is majority minority, we live in a diverse community, and we appreciate how racial prejudices affect our world. Ms. Ifill understood those differences deeply, and chose to look fairly at the important issues that affect our lives now and beyond, far into the future, covering them with utmost objectivity.
We see a difficult world to grow up in. We are just beginning to wake up in a world where people are filled with hatred and anger. But there is hope, and Ms. Ifill embodied this hope throughout her lifetime of outstanding work in journalism. She pushed the limits, and achieved greatness even when there was doubt.
Although her untimely death fills the world with great sadness, her life was filled with accomplishment and successes, not just for herself, but for an entire group of young women and people of color. President Barack Obama, in his tribute to Ms. Ifill said "she not only informed today's citizens but she also inspired tomorrow's journalists. She was an especially powerful role model for young women and girls who admired her integrity, tenacity and intellect and for whom she blazed a trail as one-half of the first all-female anchor team on network news. Gwen did her country a great service."
She was a pioneer, and though she was taken from us far too soon, she left the path of inspiration for our generation.
Every word she said was quotable, but I choose to leave you with this one, inspiring us, even after recent political events: "Hope springs eternal, even in politics."