Magical Production of The Little Mermaid Delights Audiences
The Wilde Lake theatre department performed a magical production of The Little Mermaid which brought delight and wonder to everyone who watched the performance.
Junior Taylor Thomas played Ariel, while sophomore Romeil Johnson was Eric. They are both talented actors and singers, who brought the characters' personalities to life through exquisite facial expressions and the dramatic tone of their voices.
When Ariel loses her voice for the second act, she has to portray all of her emotions and thoughts through body language and facial expressions alone. Taylor Thomas did a spectacular job at this, the audience could feel everything she was trying to portray without speaking.
All of the actors interacted with the audience magnificently by walking through the aisles in multiple scenes, especially during "Under the Sea", making the house feel as if they are in the story themselves.
The music fit in seamlessly, especially during the dinner scene in the second half of the show, by adding suspense and drama. It helped convey the message and emotion that the actors were showing at all times. The instrumental accompaniments were performed live, with no previous recordings. Everyone but the pianist were students, conducted by choir teacher Mr. Crouch.
The Little Mermaid occurs underwater, and in order to bring that underwater feeling to life, the crew decided to project wave-like blue lights on the stage. The use of long strips of blue fabric separated the stage so that characters who were in the water could interact with others on land seamlessly.
All the actors portraying sea creatures, from mermaids to eels, used either Heelies or rode on scooters to make it appear as if they were swimming through the water. The actors performed many tricks throughout, such as Sebastian doing a jump split and Eric falling off a six foot tall ship.
The boat is one of the main set pieces necessary to capture the story of The Little Mermaid, and the crew built one on the back half of the stage that appeared very realistic and detailed.
From the vibrantly designed coral to the floor painted to imitate where a beach meets the ocean, the paint crew added the elements necessary to accompany the action on stage and blend into the background.
The detailed, elaborate costumes were rented from a professional production and accented the characters' personalities. Ursula was outfitted with a hoop dress and black leather combat boots. The mermaid tails trailed feet behind the actresses, and all the actors portraying sea creatures wore heelys.
All the intricate elements combined create a magical environment that brings all the cast and crew's hard work to life.
About the Contributor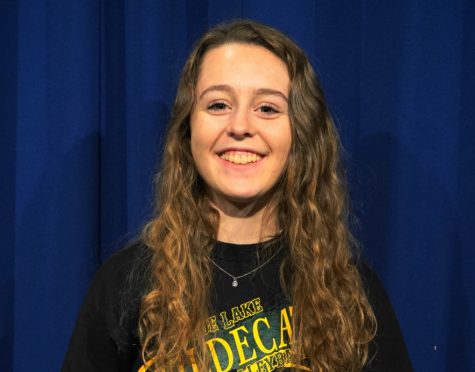 Rachel Eisenhauer, 2016-2017 Arts Editor
Rachel Eisenhauer, Arts Editor, (2015- 2017)