Student Run Clothing Line Sees Initial Success
Creative Luxuries was born during the summer of 2014 when Kenyatta Bellamy and Derrell Cain were struck by the idea to combine their interests in fashion and business to create a company that now produces their marble t-shirts with the signature double X logo on the back.
While the creators have found some success, they admit that starting a business has been difficult. Both had to start from scratch with designing and getting their products made by a clothing and distributor supplier in Pakistan. They've also had to do all their own advertising and selling.
Bellamy and Cain have learned, over time, to manage a business and school at the same time.
"I usually design while doing homework," said Bellamy. When it comes to selling the shirts Bellamy and Cain use school as an advantage to spread the word around.
"We contact people in school to give them information about the shirts," Cain says. Although a business can be stressful and time consuming they are also very focused on their education and outside jobs.
"We were surprised that our first batch of clothes sold out in two weeks," said Cain.
This spring and summer they have came back with new ideas and a new brand name.
"After we realized that we had a creative and urban style, we wanted to mature and make clothes that were high quality but affordable," said Bellamy.
These shirts are designed to look similar to expensive items at PacSun or H&M stores. Ordinary shirts from the mall cost around $40 or more. However, shirts by Creative Luxuries are being sold for $25.
"So far we have sold 23 shirts, getting around $570 profit," says Cain.
"Students find our clothes appealing because they're made with high quality fabric," said Bellamy. He believes that his company's clothes are affordable and different.
This fall, they plan to introduce more women's apparel like denim jeans and bomber jackets.
As for the future, the pair hope to continue the line after high school.
"We want to eventually get bigger and open up a side store," said Cain.
From an idea, to a student run corporation, Creative Luxuries has proven that students in high school can pursue their own business and become successful.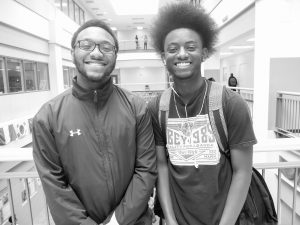 Kenyatta Bellamy (left) and Derrell Cain (right) (Photograph by Natalie Varela).