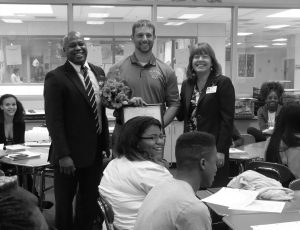 As students applauded, Mr. Cox was presented with the 2015 Crystal Flame Award in the Students category, for creating Math Help on Main Street, where he offers assistance to students struggling in any level of math.
The annual HCPSS Crystal Flame staff awards was first established in 2013. There are four categories: Students, Staff, Families and the Community, and Organization.
The goal is to honor staff members for accomplishments in each of the categories.
By donating his time before, during, and after school, Mr. Cox continues to show his support for the success of students.