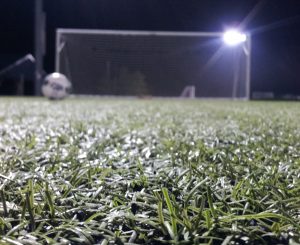 Construction will begin on a turf field for Wilde Lake this summer, according to Activities and Athletics Manager Mr. Parnell. Football, soccer, lacrosse, and field hockey teams will be able to play on the field in September, barring any construction problems.
Long Reach and Oakland Mills will also be receiving turf fields this year, reflecting a growing trend that began with Atholton, Hammond, and Howard last year. According to Mr. Parnell, Howard County is giving turf fields to three schools every year until all 12 have replaced their grass fields.
Junior Sarah Hulit has played Varsity soccer for Wilde Lake since her freshman year. She believes that the turf field will be a huge improvement over the current stadium field.
"I'm really excited because playing on a turf field is a lot better than playing on a bumpy, uneven grass field . . . The outcome of every game will be based only on which team is better, not which team gets a lucky or unlucky bounce," said Hulit.
Junior and football player Tyrone Hayward believes that having a turf field can impact football teams as well as soccer teams.
According to Hayward, "It depends on whether the team is a running or passing team. It's good for a running team because when it rains the players won't have to run in the mud." The turf field will also eliminate rain cancellations and will offer an extra practice field for Wilde Lake's teams.
Senior Alex Broholm, who has played soccer for Wilde Lake for four years, believes that playing on a grass field is sometimes advantageous over playing on turf.
"Playing on turf is a different game. It's a lot faster and some teams aren't trained for that. You have an advantage on turf if you're playing a slow team, but if you're playing a physical team grass can be better because you won't get scraped up by the turf," said Broholm.
Mr. Robin Sawyer played soccer at the University of London and James Madison University. He has coached various teams, including Wilde Lake's Varsity Girl's soccer team. According to Mr. Sawyer, playing well on turf often requires changing a team's style of play.
"The bounce is higher. Turf is fast, faster than it needs to be and you can't string passes together . . . Teams have to train on the turf field in order to play well on it," said Mr. Sawyer.
Although coaches and players believe playing on turf to be a different game, turf fields are designed to mimic natural grass. Turf consists of a layer of rubber padding underneath man-made grass blades, according to the Synthetic Turf Council. Small granules of recycled tires known as "crumb rubber" fill the gaps between the grass blades. A drainage layer is built underneath of the padding so fields can be flat without having to worry about flooding.
The benefits to players associated with turf are not without cost. Each field costs about one million dollars, according to Mr. Parnell. The county will also have to pay to maintain the fields.
"The costs are a trade-off because the county won't have to pay to paint or cut the grass anymore," said Mr. Parnell. "Parks and Recreation will also have 12 more fields available for Howard County citizens. Each one will be a park just like Centennial Lane. Youth football, soccer, and lacrosse teams can use the fields through Parks and Rec."
Coach Harrison, currently the head Varsity football coach, has been coaching at Wilde Lake since 1986. He believes that, in addition to financial costs, turf fields can add heat problems.
"Turf gets really hot in summer and early fall. It's one of the drawbacks. In our opening game against Atholton last year, we played on turf and we had a lot of kids cramping up because it was so hot," said Coach Harrison.
Although there are costs and problems associated with turf fields, Mr. Sawyer believes that Howard County's replacement of traditional grass fields with turf reflects a permanent and expansive change in the game of soccer.
"When I grew up I never played on turf, but now kids are playing sometimes exclusively on turf. The gap appears to be generational," said Mr. Sawyer. "If schools continue to replace grass with turf, than grass fields will soon be a thing of the past."