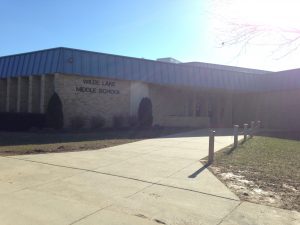 In response to a
growing population and general structural and space related issues, construction to replace Wilde Lake Middle School will begin in 2015,
according to WLMS Principal Mrs. Smithson. The new building, which will open in 2017, will be larger and "green," according to The Baltimore Sun.
"Enrollment has increased and we are outgrowing the school," explained Principal Smithson. "We need more space." WLMS students and alumni will tell you
that the school is infamous for its small size, packed hallways, and lack of windows.
"If you had two classes right next to each other, you could walk completely around the
school and still get to class on time. That's how small it [the school] was," said Robert Thompson,
high school senior and Wilde Lake Middle School graduate. Thompson said that the school always felt a bit cramped. "Every year, my band teacher would say 'when we get a new room
we'll have more space, when we get a new room we won't be so cramped, when we get a new room…' but we [the students] were all like 'okay…' We didn't really think it would actually happen," said Thompson.
The current building opened as a middle school for students, grades six through eight, in 1969. With the intent of "going green," the school could qualify as "the county's first 'gold' middle school".
The school would produce its own energy through the use of solar panels, according to The Baltimore Sun. Additionally, the new structure will be more handicap accessible with wider hallways
and more wheelchair accessibility.
The project will take two years to construct, starting in 2015, and students will continue to attend the current WLMS during that time. When the new school opens in 2017, the existing 1969 middle school building will
be demolished to make room for new sports fields and parking lots, according to Principal Smithson.