Wilde Lake Varsity Softball Clinches Historical Regional Championship Victory
June 10, 2022
After scoring three runs in the first inning and holding their ground against the undefeated Reservoir High School, Wilde Lake Varsity Softball secured a 7-5 win, crowning them as regional champions.
According to senior second baseman Brooke Webster, the game was a "back and forth", with the Wildecats scoring 3 runs in the first inning and holding Reservoir back for the next couple of innings. Then, despite Reservoir scoring 5 runs in one inning, the  Wildecats came back and scored 4 more runs to win the game.
Justyce Richard, who threw the final strike-out pitch, secured the win for the wildcats. 
"That last pitch was magical," said Brooke. "That game perfectly demonstrated who we are as a team." 
Before this fateful game, Reservoir was an undefeated team, with a 16-0 record.
The regional win was a special — and emotional — one for the cats as Wilde Lake softball has never held the title of regional champions in the 50 years of the program.
Moments after the final pitch, Brooke remembers the team running out onto the field. "We all threw our gloves into the air and ran into a big old circle," she said.
Junior right outfielder Bailey Hudgens says that excitement after the win was not short-lived. "We were all laughing, crying…we just couldn't believe that it actually happened," she said. 
The game on May 18th, 2022, was a high note of a successful season for Wilde Lake varsity softball. Senior Veronica Goode, starting pitcher and shortstop, credits the team's 16-5-1 overall record to their pitching and batting skills. "Our biggest strengths are pitching and batting," she said. "We have one of the fastest teams and are the only team that has a full pitching staff."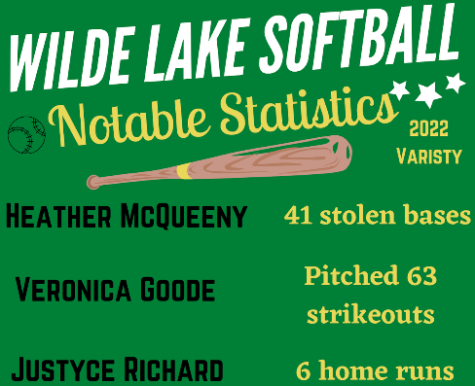 Throughout the season, Brooke says, the team has shown that they know how to make a comeback during the course of a game. "There were games that we were losing but as our coaches say,"we love the 4th, 5th, and 6th innings", and we were able to turn those games around in one inning."
But the team's success was not overnight. Like every other sports team, they lost two normal seasons because of COVID. 
Junior right fielder Lauren Jascewsky says getting back into the swing of things took hard work. "We've done so many great things this season that we knew we could do, but it just took a while to get there, and COVID kind of set us back."
And adjusting to life as student-athletes again posed another challenge, according to Brooke. "For us seniors, we've had no normal season since freshman year, and the juniors haven't even had one," she said. "It was hard readjusting to a normal season and remembering how to balance practice with school."
And though the team put the time in during practice, the players say that it was the bond of the team that carried them the extra mile to their victory. Bailey says the team was like a "family."
"I was able to step out of my comfort zone, and overall they just really made me feel welcome, especially when I was new," said Bailey. 
Lauren feel similarly, saying,"I felt included in something, and I've just made so many friends through softball and it's brought so much good into my life."
Brooke credits the Lake's softball program with changing her relationship with the game. "I had developed a toxic relationship [with the game] because I felt like I had to be perfect, and it destroyed the love I had for the game originally," said Webster. "Being a part of Wilde Lake's softball has turned that around entirely for me. Partially because I've grown to be more mature, but also because of my coaches, Tee and Vo, they completely helped me shift my perspective of the game."
Although, according to Webster, the program has not always proved to be at today's level, losing every game in 2015 and 2016. Now, however, the team is ready to prove their past and others wrong. 
"A lot of parents look down on us because we are Wilde Lake, and we showed them that we can be the best of the best," said Bailey.