Wilde Lake Rises to the Top of Howard County Cheer
February 15, 2022
In October, Wilde Lake Cheer was crowned Howard County Champions for the first time since cheerleading became an official varsity sport in 2005. Then, they went on to set a regional record. 
Wilde Lake Cheer has been climbing the ranks of Maryland Cheer since 2018. This is the first time a Fall Varsity team has reached the State Semi-final competition and the program's second appearance in the last three years. This fall was the first year that Wilde Lake Varsity has ever been county champion and the first year that both Varsity and JV have claimed the title in the same season.
This fall, Varsity hit their highest score in the past eight seasons, beating Atholton by only 0.2 points, which Senior Captain Layla Bullock says was very exciting. "I was super excited and so proud of my team for being able to work hard and come out on top at such a competitive competition," she said.
Senior Varsity cheerleader Khalisa Ba'th says that a change in attitude has helped the team improve a lot this season "Being unselfish has helped us improve greatly to be more successful. There were a lot of changes, and some people had to sacrifice being on the mat, but that didn't stop anyone on the team from working hard."
Khalisa says she feels the work ethic on the team is a big reason why she decided to cheer. "I wanted to cheer at Wilde Lake so badly because of the environment. In middle school, when the cheerleaders came to Harper's Choice, I loved seeing how hardworking and passionate they were and wanted to be a part of that," she said. 
Khalisa, who spent her first two years on JV and placed second in the county with the 2019-20 Winter team, now has two sisters on the Junior Varsity team and described both wins as very emotional. "I think that was the most I've ever cried. I started when JV won and didn't stop until we took group pictures. Both teams worked so hard it was one of the best moments."
The team says they are motivated by their winning streak and hopes to continue along this path. Junior JV Cheerleader Bailey Hudgens says," I feel hopeful for this Winter season and continuing our winning streak. I'm also just excited to broaden my connections with my teammates."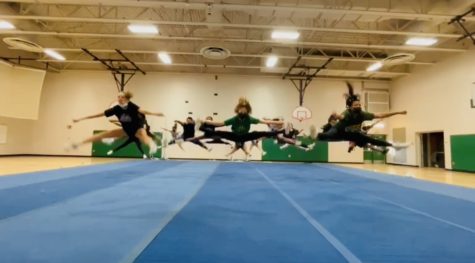 Following the historic fall season, Wilde Lake cheer set another new record having the highest placement ever at a regional championship placing second with a score of 115.6 behind Linganore High School. This is also the first time ever that Wilde Lake has reached the Maryland state championship.
"The bond and love for one another that has been developed in the team this year has really strengthened our program, and we hope to continue to perform like this," said Layla.