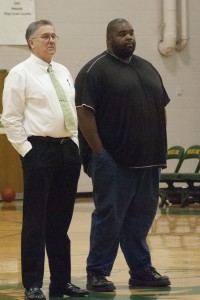 As the warm-up music blares from the speakers and vibrates off the gym walls, the Wilde Lake girls varsity basketball team shows off their skills up and down the court. The pre-game countdown winds down and the girls are called over to the sideline for a short encouraging talk from new Head Coach, Robert Cranford. The buzzer sounds, hands in, one, two, three, WILDECATS!
This season, the Lady Cats welcome Coach Cranford and Coach Burke to a historically solid family of teamwork and synergy. Coach Cranford and Coach Burke are both experienced basketball coaches. Combined, they have been coaching for eleven years and offer a variety of skills that can increase the pace of the game and, in turn, the points on the scoreboard. "With coach Cranford, and coach Burke, we are using a much faster pace to run teams into the ground," noted senior captain Lindsey Williams.
According to Coach Burke, versatility is a key component in the playbook this season. Last year, most players were set in positions they felt most comfortable playing. "This year they [the girls] are learning how to play different positions," says Coach Burke. The coaches are urging the girls to get out of their comfort zones and learn various skills.
Additionally, Coach Cranford and Coach Burke stress the importance of knowing the essential basics of the game.
"My job is to teach the fundamentals of the game," said Coach Cranford. "You can't learn the harder stuff until you learn the basics."
Providing experience in athleticism, players are excited for their new coaches to show them how to perfect their skills.
Coach Cranford believes in his team. "They are hard workers and dedicated to winning," said Cranford. With practices and games during the week and two hour practices on Saturdays, the girls work hard. According to Coach Cranford, the name of the game is hard work and practice, practice, practice.
Lindsey Williams is eager to rebound from last season and leave it all on the court. Like her other teammates, she believes Coach Cranford and Coach Burke will be great additions to the team.
Coach Cranford is the icing on the cake this year," said Williams. "We have the talent and they [the coaches] are just pairing it with a vision and there you go! Victories! "
After tryouts, a few practices and games, Williams has already noticed a difference in the pace and tempo of their play.
Looking toward the future, the girls believe their previous record will improve.
"Last year we were almost to the top of the mountain and we just needed that extra shove to get there," said Williams. "Coach Cranford and Coach Burke are the extra push to help us get there."