Finishing at 9-12-0, the '14-'15 Wilde Lake baseball team has been the best team in the program's history since their '09-'10 season.
Mr. Penn has been coaching the base-ball team for the past five seasons. He has coached the team through both their worst and their best in the past five years.
The team feels that the '14-'15 season is a turning point for the program.
"This has been our best season since I've started on the team," said Matt Aubin, a former catcher, "we have a great time, win or lose, and even with every argument we have with each other at the end of the day we aren't just teammates but we are family."
Aubin said that the team has improved a lot since he started playing during his sophomore year.
"We've most improved in our hitting, fielding, and attitude," he said.
Now that the season is over, the athletes are looking to the future. "We have a lot of things that we need to improve on, especially myself, and I can say without a doubt we are all ready to make any sacrifice necessary to become better," said graduate Cuinn Mullins.
Graduate Cuinn Mullins led the team with six home runs, 27 hits, 22 RBIs,
JV Players Look to Brooks Robinson all-star game.
Next year, 7 of the team's 9 starters and a total of 8 college-bound seniors will be leaving the team, along with the three team managers. The positions of pitcher, catcher, first base, second base, third base, shortstop, left field, and cen- ter field will all be open spots for incoming varsity players to fill.
Aidan McGonigal, the only freshman on varsity baseball, was recently a new addition to the team and explained that watching the seniors leave can be hard, but when one door closes another one opens.
"We will definitely miss everybody but there are some good players coming up from JV. Sophomore pitcher Jackson Schaffer is somebody to watch for next year," said McGonigal. "There is some great talent moving up to replace the seniors," he said.
The new players are looking forward to stepping up as leaders on the varsity team, and are ready to work even harder, but the team will undoubtedly miss the .551 batting average of Cuinn Mullins and the .474 batting average of Wyatt Oler, both graduates.
Pre-season workouts are a large part of getting ready for the up and coming season and are often dreaded by the play- ers, but for McGonigal they are a way to bring the team back together. "After this season is over I'll be ready to get back on the field and have a fresh start," said McGonigal.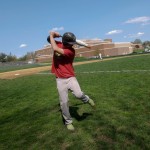 "Starting workouts without the seniors will be different, but I think that we will need to get closer as a team," said McGonigal, "I think next season [the team] will be able to surprise people and pull out some wins."