Girls' Soccer Defeats Atholton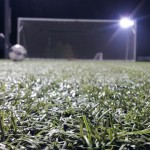 Wilde Lake's varsity girls' soccer shocked the county when they defeated Atholton in a 1-0 game and went on to play River Hill in the playoffs.
"Nobody expected us to win. In the newspaper, it was said that the River Hill vs. Atholton game would be the game to watch," said Rachel Lazris, one of the junior captains.
Lazris also said that the highlight of the season was the moment that the whistle was blown and the team realized they won the game.
"We were the underdogs of the county, so it felt like a really big accomplishment to defeat Atholton," said Lazris.
When asked about the team captains and their performance, right midfielder Sahar Zoghi said, "They helped motivate us and they kept us focused throughout the game. They kept pushing us to play our best."
Ali Mallo, a senior captain said that the highlight for her was bonding with her teammates.
She said that without bonding and becoming familiar with one another's skills, the team wouldn't have been able to surprise the county and win the game.
Alyssa Bialek, also a senior captain, played throughout her high school career, and said that her experience as a captain helped her gain leadership skills and motivate her teammates during games.
Though the senior captains are graduating this year, they are proud of how far the team has come and wish them luck in the future.