Featured Athlete: Ernie Fermin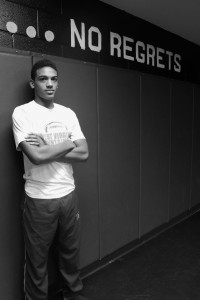 Senior Ernie Fermin played football all four years of high school and has been wrestling for three years. He started wrestling as a way to keep his body in shape and as a way to pass the free time he had.
"I love wrestling because I love leading the team and the feeling you get when you win a match," said Fermin.
Even though wrestling takes up the majority of his free time, he still makes it a priority to maintain his good grades.
"It's one of the most important things when you're an athlete to make sure you keep up your grades," said Fermin.
Fermin connects to wrestling, because he likes anything aggressive.
"I get this adrenaline rush when I'm doing aggressive sports that I don't get any other time. And it keeps my body in shape," said Fermin.
Although he loves wrestling, Fermin admits that he is going to stop wrestling and pursue his football career in college.
Fermin has been playing football almost his entire life.
"It's the sport I'm most comfortable playing," said Fermin.
Coach Harrison has coached Fermin through his high school career and has seen how much his abilities have improved. He commented on how Fermin's determination and hard work has made him a better football player.
"Ernie has showed a lot of leader characteristics this season, because he is one of the more dependable seniors. He pushes everyone else on the team to do their best on the field and at practices," said Harrison.
Fermin admits that even though he wishes the 2014-1015 football season could have been better than a 3-7 record, he doesn't regret anything.
"I loved my team and I know that even when I'm gone they'll continue to improve on their game," said Fermin.