On The Ice Everyday: Ryan Allison
"I wake up every morning in agony, having to force myself to get out of bed and get ready for school," said sophomore ice hockey player Ryan Allison.
Allison has practice three hours a day, then goes home and stays up late at night, finishing homework. Having to juggle school and hockey, he becomes swamped with schoolwork from all the days he spends on the ice instead of at a desk. When he is not at practice or doing homework, he can be found at the gym, getting his body ready for matches to come.
"It is worth not getting any sleep and hurting everyday," says Allison. He does this in hope of getting a call or look from a college recruiter.
"I haven't gotten any calls yet, but I'm really hoping. My family needs this," said Allison.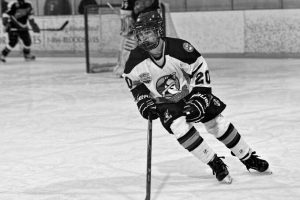 Since he currently has siblings in college, he feels that it is his responsibility to help his family pay for his college education.
"I don't regret missing school and being swamped; I'm doing this to help out my parents. I at least owe them that much," said Allison.
Allison had to miss at least five days of school for a tournament in Canada, but he says that the sacrifice is worth it.
"I'm going to miss a lot of school, but this might be the time I get a look, and I can't pass that up," he said.
Allison stays hopeful every match, even though he has been playing for his entire life and has never gotten a single call or email from a recruiter. He truly believes that it is a sacrifice worth taking and that one day, he'll get a call from the college of his dreams.u7n