NEWS: HCPSS schools will be all online first semester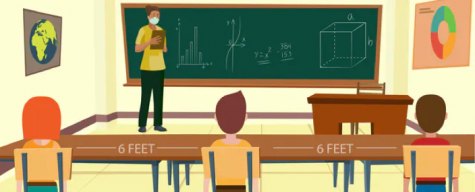 The Board of Education for the Howard County Public School System (HCPSS) has made the choice to start school virtually for the first semester. At the July 16 Board meeting,  there was a vote and this plan passed by 6 to 1. 
HCPSS' recommendations for reopening were presented to the Board of Education during its meeting on July 9. The proposals considered various stakeholder preferences, but also raised concerns about the school system's ability to keep students and staff safe. 
An HCPSS survey of teachers, students, and staff showed that a majority of student and parent respondents preferred either a hybrid or fully in-person model. However, 33.33% of staff and 25% of parent respondents preferred a fully virtual option. Approximately 26% of all student respondents wanted to fully return to in-person school.
Consequently, HCPSS' recommendations included two options. The first option was a three-phase model where all students would start school virtually for a short period of time. Then students would move to phase two, a hybrid online and in-person model, on a predetermined staggered schedule. 
Students in grades pre-K through 3rd grade would have gone into the hybrid phase one week after school begins. Students in 4th and 5th grade would have started three weeks after school begins. Middle and high school students would have started five and seven weeks after school began, respectively.
During the hybrid phase, half of the students (Group A) would have received in-person instruction two days a week and the other half (Group B) would have received online instruction during those two days. Then, the groups would have switched.
Although the school system did not adopt a hybrid option, it is possible that these proposals will resurface as we approach the end of first semester or if coronavirus appears to be diminishing. According to the decision made by the Board of Education on July 16, HCPSS schools will be fully virtual at least until the first semester ends on January 28, 2021.
Eventually, when coronavirus is over, the goal is for all students to return to full face-to-face learning. HCPSS has not yet proposed a timeline for moving students into a face-to-face model after January 28. 
Another option that was briefly considered was forming a Digital Education Center for the county. Stakeholders who did not want to return to the school building could opt into this entirely virtual school for the whole school year. In this option, instruction and support services would have been entirely virtual and the students would not have received any in-person instructions or help.
Since the Board of Education chose to keep all students in virtual learning first semester, the Digital Education Center became irrelevant. 
For the first semester in online learning, according to the sample schedules on the HCPSS website, elementary students will have four days of synchronous instruction in subjects like math, English language arts, social emotional learning, and related arts. On Wednesdays, they will have one day of fully independent work. 
Middle and high school students will follow a 4×4 schedule. In this model, students will take four classes each semester. They will receive three and half hours of synchronous instruction every week in each class, as well as a full day of asynchronous assignments on Wednesdays.  
Synchronous instructions means that teachers are instructing the students live, through Google Meet. Asynchronous instructions means that students will be completing independent work on Canvas.
HCPSS' decision to reopen schools or remain in digital learning was very difficult to make. Experts, including some pediatricians, tell us there are many benefits to reopening the schools. 
According to the Washington Post.com, "School closures impact kids' health. Students who are out of school are more likely to be sedentary and experience weight gain. Many also lose access to hot meals because millions of children rely on federal programs for free or reduced-price meals." 
Shelly Joseph, a Howard County parent and resident, agreed, "Schools provide a place for children to be productive and cared for while parents are at work and for some, a lifeline to meals, support in times of distress, health screenings and therapeutic services."  
However, many HCPSS stakeholders felt that a return to in-person schooling was still too dangerous. With coronavirus cases on the rise in most states, some stakeholders felt that the school system did not have a detailed safety plan that would address all of their safety concerns. 
The HCPSS survey showed around 65% of teacher respondents and 67% of parent respondents were "quite concerned" or "extremely concerned" about safely returning to their school.
Just like other counties and countries, Howard County has been impacted by the coronavirus and that complicated HCPSS' decision. There were 2,897 confirmed cases of coronavirus and 96 deaths in Howard County as of July 15, according to Maryland.gov. This is one reason why some parents, students, and staff members were hesitant for schools to reopen. 
 For example, Ellen Ahn, a BSAP Summer Institute math teacher, said, "I feel like it is too early to go back to school in August. There is a rise of COVID cases in the states where they lifted restrictions too early. Definitely, schools can take more precautions – making masks, gloves, and hand-sanitizers readily available."
Ahn's sentiments were echoed by Colleen Morris, the teacher's union (Howard County Education Association) president. During the July 9th Board of Education meeting, Morris said that HCPSS does not have a clear understanding from the HCPSS survey of what the teachers want and how many are willing to go back into the brick-and-mortar schools.
At the same meeting, Board members Jen Mallo and Sabina Taj also expressed concern about whether the school system could really put Centers for Disease Control and Prevention (CDC) safety measures in place before starting the hybrid model, and they questioned whether the guidelines were affordable within the county budget. 
Taj also made a point that there is not enough scientific evidence to make sure schools are 100% safe for students and staff to return.
On this point, Joseph agreed, "I'm not confident HCPSS has invested the time, effort, and money needed to implement these measures, primarily due to factors outside the school system's control."
According to Cindy Lazzari, a nurse at Elkridge Landing Middle School, if students do end up returning to schools during the pandemic, then "mask wearing will be mandatory all day with the exception of eating breakfast (if it is served) and lunch. Six feet distancing will be the recommendation I suspect, but I am more comfortable with 12 feet. 
Lazzari stated, "I am sure of one thing, masks will and should be required." According to the CDC, staff will also need to "teach and reinforce use of cloth face coverings" 
To put it simply, HCPSS would have to create a plan that ensures all schools are following every guideline in the "Considerations for K-12 Schools: Readiness and Planning Tool" on the CDC website. 
These guidelines include such measures as: "Support healthy hygiene behaviors by providing adequate supplies, including soap, hand sanitizer with at least 60 percent alcohol (for staff and older children who can safely use hand sanitizer), paper towels, tissues, disinfectant wipes, cloth face coverings (as feasible) and no-touch/foot-pedal trash cans." For the full list of recommendations go to CDC.gov. 
Ahn added, "Cons include testing positive for COVID and spreading to others, like family members, students, and friends. I will feel so guilty." 
Joseph concluded, "So much is still unknown about the coronavirus and therefore we don't fully know its impact on our health."
Dr. Michael J. Martirano HCPSS Superintendent, assured the Board members that whenever students return to the buildings, HCPSS will do everything it can to keep everyone safe, such as buying masks, updating HVAC systems, and increasing staff training on how to clean and disinfect their classrooms properly. 
He also said that staff will help students keep up with their personal hygiene. For instance, by making sure students wash their hands frequently and re-applying hand sanitizer. Overall, he stated that he would not allow students or staff to return to schools until it is safe to do so.
To find out more information on HCPSS' plans for returning to school, visit the HCPSS.org website. The website updates daily.