SPORTS: NFL returns to action while weighing coronavirus fears
The NFL is returning this fall, even in the midst of the coronavirus pandemic. Many fans are excited to have the football season return.  
In addition, one of our local teams, formerly known as the Washington Redskins, announced big news this month that the team will be changing its name. With protests occurring nationwide, led by Black Lives Matter after the death of George Floyd by the police, the Washington football team has decided to change its name out of respect for Native Americans.  
Which NFL teams will be the best this season? What do football fans think about the Washington Redskins' name change? 
Ashley Armstead, BSAP Summer Institute counselor, is rooting for the Baltimore Ravens this year! Sterlind Burke, technology teacher at the BSAP Summer Institute, agreed with Armstead. "II think it will be the Baltimore Ravens against the Seattle Seahawks in the Super Bowl this year with the Ravens winning," he said.
However, Eugene Rose, BSAP Summer Institute Principal, said that the Philadelphia Eagles will be the team to beat. He said, "They are loaded offensively and they just upgraded the defense."
However, BSAP Summer Institute social studies and broadcasting teacher, Amy Smith, has a few other ideas. "According to some predictions, the Saints seem stacked and strong contenders for the Super Bowl 2021, with Drew Brees and Michael Thomas. The Broncos could be the team too!" Smith explained.
One thing that everyone seems to agree on this fall is the Washington Redskins changing their name. 
Armstead said, "I believe it's a step forward in making a change." Burke agreed, "I think it is long overdue. I have been saying for years that they needed to change their name to the Warriors. It looks like it is going to happen now."
Rose added, "I think it is great – it should have happened a long time ago. I am glad the sponsors put pressure on Daniel Snyder. I hope the Redskins do what the Ravens did when they moved back to Baltimore, and make the naming of the team a contest. This will give the fans some buy in to the new team name."
Smith added, "I agree with the name change because I look at it through a historical perspective of oppression and bigotry. Time means change. Visual images can be powerful symbols and changing them can move a country toward growth and inclusion of diverse perspectives."
However, in spite of the enthusiasm for NFL football this fall, many people still have worries about the season coming back during the coronavirus. Is it safe for the NFL players to return in the midst of a pandemic? 
"It depends on many factors. With testing and no fans I think it could work. Other sports such as UFC, Premier League, and MLS have already gone back. A major part of the problem is the way that the United States has handled the pandemic as a whole. Many European countries handled it better and their sports are back and their countries are experiencing very few new cases," explained Burke.
Thom Mayer, NFL Players Association medical director, said that the league will "likely test all personnel three times per week," according to the NFL Network. That will include football personnel (players, coaches, trainers, locker room) and non-football employees, and Mayer said the hope is that an accurate saliva test will be available by the start of the season, according to the Boston Globe. 
ESPN.com stated, "By its nature, football might be the most difficult sport to implement mitigating [safety] policies, at least during games."
"If they implement very strict safety guidelines, it may be possible; however, I am not 100% for it. Football is a contact sport and it could greatly increase exposure on the field and off (workouts, locker rooms, etc.)," Armstead commented.
Rose agreed, "I really do not think [it is safe], but I think the playing of football will bring some normality to a lot of fans. I hope that the NFL will follow all the procedures they have put in place due to the coronavirus.  The NFL needs to focus on the players first, not the revenue."   
"I don't think [it's safe yet], at least not with thousands and thousands of fans. Plus, I don't even think it's safe for the players yet. We are in a time of uncertainty and should not risk possible large outbreaks in the general public until a vaccine is made," Smith explained.
Many teams are planning to limit their ticket sales so that their stadiums are not full. That will allow fans to social distance while watching the games. 
According to the Baltimore Sun, Ravens team president Dick Cass said in a press release, "To offer a proper level of safety for fans who want to attend games, a reduction in capacity is necessary."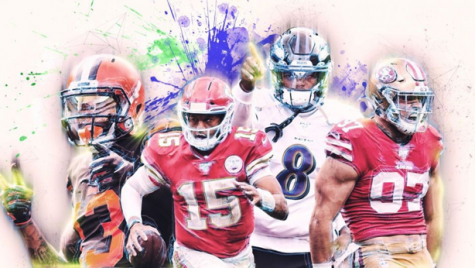 NBC Sports added, "The [Ravens] team sent an email to season ticket holders on Wednesday  [July 8] informing them that they are limiting attendance to less than 14,000 people due to safety protocols put in place to deal with the COVID-19 pandemic. The stadium has a capacity of just over 71,000 fans."
The NFL season is expected to start on Thursday, September 10, 2020.  We hope all players and fans will stay healthy and enjoy the competition.