SPORTS: What will happen to Howard County sports this fall?
Everybody in Howard County is wondering whether youth sports will be back in the fall.  Howard County children's sports leagues are debating whether it is safe enough to play sports during the Covid-19 pandemic.
If sports do not return this fall then there might just end up being online practices.  
This article will explain what is going on with sports in Howard County as of July 21, 2020.  According to the Capital Gazette, "Maryland Superintendent of Schools Karen B. Salmon on Wednesday June 10th announced high schools will be allowed to resume practice and training activities following the same guidelines previously put into place for youth athletics."  
Katherine Fominykh and Tim Schwartz, the authors of this Capital Gazette article added, "The decision opens the door for the return of student-athletes to fields across the state, which has been banned since Maryland Governor Larry Hogan announced the closure of schools March 12 due to the coronavirus pandemic."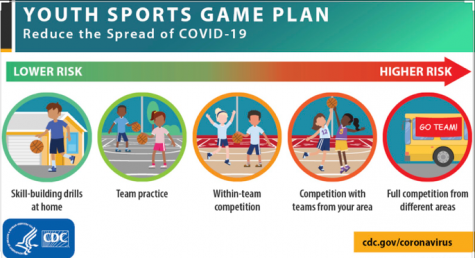 On May 27, Hogan allowed youth sports to begin "low-contact" practices outdoors and in limited groups that may not exceed 10 individuals at any time. "Social distancing protocols must be followed and staff and youth athletes should be screened regularly for COVID-19. Staff shall wear coverings, as should athletes age 9 and older if they can be worn safely and consistently," Hogan stated. 
Austin Jones, a 23 year-old Washington D.C. resident, said, "I think tennis would be okay if people wore gloves when they were touching the racket, assuming people aren't sharing the racket… [and] if the sport is slow enough, like golf, you should just try to wear a mask if you are going to be near people."        
Similarly, Chloe Cato, a rising 6th grader at Glenelg Country School said she has mixed emotions about the safety of restarting sports this fall.  
She explained, "There are certain sports like swimming, where you can't wear a mask because your mask would get wet and you're kind of just spreading germs in the chlorine. In football, you have to tackle people, so that's not very safe. In soccer, I mean, you can't really social distance in soccer because you want to get the ball." 
Another opinion was from Howard County resident Faedra Carpenter. She said, "As a parent of two kids, do I think playing sports during a pandemic is safe? No, I don't think it's safe but do I think that there are ways to make it as safe as possible and smart precautions to limit the possibility of getting sick…  I think there is never a way to be a 100% safe, unless you lock yourself in your room and you don't see anybody, but nobody is going to do that."
She added, "It is about the delicate balance between physical health and there is also social and emotional health, so I think that [sports] is an important thing for my family."
Although some student sports teams may not return this fall, there are still plenty of recreational activities that are already open. 
According to the Baltimore Sun these listed sports are currently open and active: basketball courts, bocce courts, Centennial Park Skate Spot, cricket pitch, disc golf, equestrian rings at Schooley Mill Park, Timbers at Troy golf course, handball and racquetball courts, North Laurel Community Center Skate Park, pickleball courts, playgrounds, Rockburn Branch Park's Skills Park, roller hockey, sports fields, tennis courts, and volleyball courts.
In conclusion, we are not quite sure if all Howard County sports will be coming back this fall, but we are sure if they do, you will need to take many precautions.